Springtime (and a Marathon) in Paris
Springtime (and a Marathon) in Paris
WARNING: THIS BLOG CONTAINS NOTHING ABOUT RENTAL. NORMAL SERVICE TO BE RESUMED NEXT MONTH!

Paris Marathon April 3rd 2016
My initial decision to run a marathon was not taken quickly (or lightly). I have been running for 3 years, 2 years on a regular basis. My partner, Andy, had run London and Brighton and was keen to run another marathon, maybe somewhere in Europe.
So we entered the ballot for the London Marathon and in August we found out we didn't get in. It was decided we would combine a trip to Paris with the April 2016 marathon. Seemed like a bloody good idea. Paris in springtime; what could be lovelier. The kids were duly "booked in" with grandparents.
Our training plans started in September, building up mileage and fitness slowly. Training for a spring marathon means winter training – quite often on your own as your plan is specific to your pace and fitness. So, lots of cold, wet and windy runs. Not much fun but I didn't miss any sessions. (Apart from a week over Christmas, but I am only human)
We were running 5-6 times and up to 70k a week at the height of the plan. My time was spent running or washing running gear.
3 months before race day
Andy injures his knee during a 10k race and is out of action for 4 weeks. His plan to run a PB is in doubt.
1 month before race day
March seemed to come round pretty quickly we were doing well. By the end of March that all changed and I was in all sorts of trouble. Tight Achilles, tight hamstring and really tight shoulders meant I was in pain for the first ten miles of every run I did. After ten miles the pain would go away. There was nothing I could do about it. I was just going to have to "man-up"!
Was I "man" enough for 26 miles?
1 Week before race day
The weather forecast was looking like it was going to be really warm in Paris that day. Not great when you've been training in 3 degrees wind and rain.
All in all I wasn't looking forward to the race at all.
Day before race day
Andy and I hopped on the Eurostar and arrived in a cold and misty Paris. We handed in our medical forms, picked up our race numbers and free rucksack!
Having been to Paris a few times before we decided to have an early night (after eating our own body weight in pasta) We were both pretty nervous, as you might expect.
Sunday Race day
My start time was 10:15 – 2 hours after the elite runners (they were probably just finishing) and an hour after Andy started. So I had an hour in the hotel room on my own just sitting waiting to leave – I very nearly didn't! I walked down to the start – on the Champs Elysee and it was hot, much hotter than predicted. I walked down to my starting pen and chatted to a few English people in the queue for the loo – they were in the same predicament as me so it made me feel better.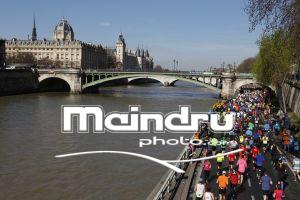 We set off and I settled into a gentle pace, trying to keep it steady. There were so many people it was hard to run in a straight line. Every 5k there was mad crush at the water stations. In between water stations there were buckets of cold water and firemen with hoses. Most welcome. I managed to stay cool pretty much throughout the race, even though it was 24 degrees C.
The support shown for the event was incredible – live bands were playing all types of music every 2k or so, and the crowds really built up towards the end. It really helped to get me round.
At 12 miles I'd been running for 2 hours and I felt ok. I wasn't going to get under 4 hours but that was ok as long as I finished. I knew I could run 22 miles but what about the last 4.2? I really had no idea.


The sun was relentless and there was no cloud cover. We went through a massive tunnel and I thought – great, shade – but it was airless and hotter!
At 24 miles runners were dropping like flies – cramp, heat exhaustion and dehydration – I didn't want to give up but my legs were getting really heavy.
At 25 miles the streets widened and I started to think I could actually do this.
At 26 miles I heard someone shout my name – it was Andy – boy was I pleased to see him. 200 metres to go. I could see the finish line and I think I laughed. Over the line I went – finished. At last. I'd been running for 4 hours 6 minutes. The relief was immense. I was just so happy to finish I didn't care about my time, it didn't seem that important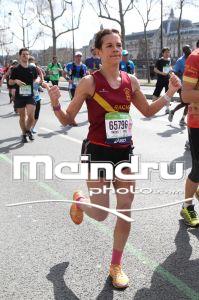 As they say, if you want to find out more about yourself, run a marathon.
I got my t-shirt, my medal and met up with Andy (his time of 3 hours 22 and a massive PB).



We staggered back to hotel, showered, changed and were straight back out again to celebrate. And boy did we celebrate.


(My burger .. or heart attack on a plate!)


(Andy avec beaucoup de beer!)
Post-race day
A whole day to ourselves. What bliss. Legs like 2 wooden sticks, we wandered around Paris at a snails pace. Paris was cool again – just our luck to have a hot day on race day. Never mind, there's always next time!
This is next time http://www.racetothestones.com/
---